Industrial Energy Efficiency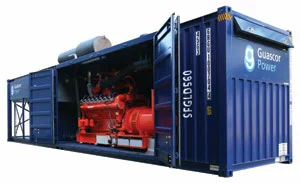 Our research, development and continuous improvement policy, as well as the application of advanced technologies enables us to guarantee the maximum quality for the products and services supplied by Guascor.
Guascor is engaged in a continuous process of technological innovation in its Industrial Division to respond to the growing demands of energy systems capable of fulfilling specific customer requirements.
Guascor Energy Systems are found in the most diverse fields of Generation, Cogeneration and Tri-Generation ranging from 142 kWe to 1240 kWe.
The containerized sets offer an effective solution with your choice of a natural gas, diesel or biogas cogeneration sets. A unique answer for isolated developing regions which do not have alternative energy sources and require:
Low Consumption
Low Emissions
Higher Profitability and Productivity
Construction based on ISO standard containers, the containerized cogeneration sets do not need to be built on site, they are transported at a very low cost offering an effective solution for temporary services and for those applications where mobility and fast installation of energy plants are necessary.