Biomass Power Plants
Biomass Definition
In terms of energy, biomass can be considered all organic material generated by photosynthesis; any organic residue from the agro-livestock and agro-food industries; As well as solid municipal waste and sludge from sewage farms.
Guascor gasification technology
Guascor has new technology for gasifying different types of biomass; rice husks, olive cake from olive pressing, wood chips, etc.
The gasification plants are based on a modular concept and are able to process between 8,000 and 60,000 tons of biomass per year. The gas obtained from the gasification plants is used as a fuel for the Florafox gensets, which convert it into electricity that can be used for self-consumption or exported to the national grid.
The high performance of the Guascor biomass gasification plants and the later production of electricity with the gensets represents a competitive solution when compared with conventional boiler-fired system.
Types of biomass
Forestry
Agricultural
Agro-food industry
Wood waste
Livestock
Sewage sludge
Paper and cardboard
Energy crops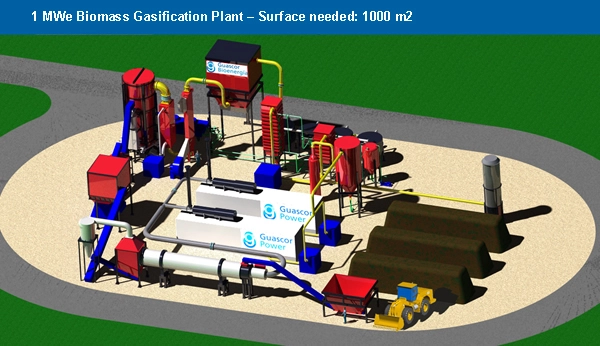 "Guascor designs, projects and implements suitable
solutions for each type of biomass residue."